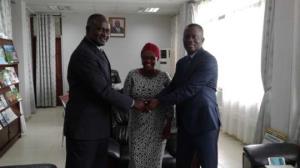 The Environmental Protection Agency (EPA) is exploring collaboration with a top environmental institute and a university in Finland, expected to lead to research and capacity building exchange programmes between Ghana and Finland environmentalists.
The collaboration is also to ensure technology transfer, deepened training and knowledge sharing and policy discussions that would boost the relations between Ghana and Finland.
It is expected to assist the EPA in transforming its Institute of Environmental Studies, located at Amasaman in the Greater Accra Region, to affiliate with the two institutions, and to get a national accreditation that would enable it to award diploma and degree certificates to its trainees.
A delegation made up of officials of the EPA and Aquaminerals West Africa Limited have, therefore, paid the first working visit to the Finland Environmental Institute and the University of Oulu, Finland, to interact with officials there and discover the opportunities that would accrue for both Ghanaian and Finnish nationals under the collaboration.
This is being led by Aquaminerals West Africa Limited, a joint-venture subsidiary of Finland that provides water treatment solutions in Ghana.
Mr Samuel Owusu-Asare, the Chief Executive Officer of Aquaminerals, at a briefing with officials of the EPA, led by its Executive Director, Mr Peter Abum Sarkodie, said the two institutions abroad were enthusiastic about the agreement and looking forward to further engagements.
He said the University of Oulu, which he represents, was ready to share research findings with the EPA to boost its environmental protection agenda in the country.
GNA
By Lydia Kukua Asamoah, GNA
Modernghana.com